Industry Trends
Edge computing and the cloud are shaping digital transformation
Edge computing and the cloud are shaping digital transformation
With the digitalization of the real economy, everything can be sensed, connected, and intelligent. The pure public cloud model cannot solve all the problems that occur during the digitalization of real economy due to constraints on real-time performance, bandwidth, security, and privacy. In this context, edge computing has been redefined, and related application scenarios have gradually emerged.
Edge Computing Meets the Cloud
Ever since the concept of edge computing was introduced in 1997, IT engineers have paid more attention to network architecture and traffic optimization. After cloud providers entered this domain in 2016, edge computing was redefined as an extension of public cloud capabilities that support enterprise businesses with edge-cloud synergy architecture.
Key Base of a Digital Platform
In the Cloud 2.0 era, enterprises in traditional verticals are exploring digital transformation. They are faced with many challenges, such as how to migrate services to the cloud, how to ensure service agility, and how to meet local service interaction and supervision requirements. An edge computing–oriented solution is one of the key enabling technologies needed to meet these transformation requirements.
Pain Points
Difficulty collecting device data

In vertical industries, diverse device interfaces and protocols cannot be unified in a short time. Data cannot be directly connected to the cloud due to constraints of service scenarios and industry supervision. Therefore, data collection, protocol adaptation and access, data preprocessing, and local service capabilities need to be implemented on enterprise service sites.

Difficulty integrating applications

Enterprises have constructed a large number of service systems to meet the increasing demands of applications. The complexity of enterprise services dictates the need for traditional applications, cloud applications, SaaS, multiple data sources, and multiple deployment areas. Traditional point-to-point integration results in complex application integration and dependency, as well as difficult architecture extension and maintenance.

Difficulty innovating with closed architectures

The existing traditional systems use closed architectures, and data is independent and hard to converge between these systems. As a result, it is difficult to realize architecture openness and convergence or use the latest container, data analysis, and AI technologies to support rapid service innovation.

Difficulty adapting to different scenarios with pure cloud architecture

In the process of digital transformation of vertical industries, enterprises seek to use an abundance of services on the public cloud. However, pure public cloud architecture often cannot solve problems such as real-time service performance, bandwidth optimization, data privacy protection, and security protection.
Typical Scenarios
Edge-Cloud Video Analysis

Edge-Cloud Application Integration

Edge-Cloud Container Cluster
Edge-Cloud Video Analysis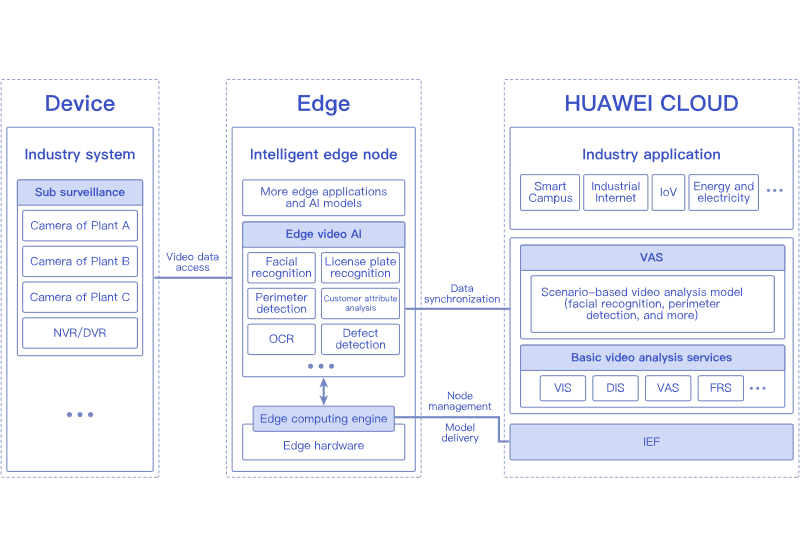 In the edge-cloud synergy architecture, edge-side video pre-processing through real-time surveillance can predict incidents, take appropriate actions, monitor situations, and track results.
Based on user scenarios, edge intelligence capabilities can be
customized and intelligent algorithms can be quickly deployed to reduce upload traffic and latency.
Edge-Cloud Application Integration
With integration capabilities deployed on- and off-cloud, messages, APIs, and data can be integrated through an on-and-off-cloud integration bus. 
Interrupted data transmission can be resumed, greatly simplifying the architecture and dependency of enterprise application integration.
You can integrate data locally because data integration capabilities of the ROMA platform can be deployed on edge nodes.
IoT services can be preprocessed and closed at the edge on
premises to relieve the burden of the IoT platform. The edge cloud synergy architecture ensures service compliance and real-time performance.
Edge-Cloud Container Cluster
The edge-cloud synergy architecture provides unified container cluster management, application deployment, and traffic distribution, eliminating single cluster failures.
This solution is ideal for multiple scenarios, such as service
traffic sharing, separation of services and data, separation of R&D and production, and decoupling of computing and services.
Solution Architectures
Architecture of the Edge-Cloud Synergy Solution
The edge-cloud synergy solution provides an open, cloud-native edge-cloud synergy architecture and extends extensive cloud services to edge nodes, enabling a synergy of containers, devices, application integration, and video service capabilities and allowing you to develop edge applications effectively.

Service Capabilities
In the solution, services are mainly processed at the edge. Devices, applications, and video data can be connected to the edge. Service capabilities such as IoT awareness, AI inference, application integration, and near-field computing can also be conducted at the edge based on service demand. The solution can be easily mapped to reference architectures of different vertical industries to preprocess data or close services locally.

Management and O&M
The edge nodes and services involved are centrally managed in the cloud, enabling registration, discovery, configuration management, service delivery, and O&M information reporting of edge nodes.

Deployment Scenarios
The solution supports enterprise edges and edge sites such as CDN and distributed data centers at the edge. It supports HUAWEI CLOUD and the HCS Online solution, which is an on-premises extension of HUAWEI CLOUD in the cloud.

Advantages
Decoupled and Open Architecture

The cloud-native edge-cloud synergy architecture supports registration of devices embedded with heterogeneous hardware such as x86 servers, ARM, NPUs, and GPUs as edge nodes. You can easily deploy, update, and iterate services on edge nodes by packing services into containers.
Recommended Services
The Relationship, Open, Multi-Ecosystem, and Any-Connect (ROMA) platform originates from Huawei's integration practice in digital transformation. It facilitates the integration of enterprise applications and data. ROMA enables integration of messages, data, APIs, and devices to simplify cloud migration. It also bridges enterprises and their partners, eliminates the digital divide, and accelerates enterprise digitalization.
IoT services can be preprocessed and closed at the edge on premises to relieve the burden of the IoT platform. The edge cloud synergy architecture ensures service compliance and real-time performance.
Success Stories
Success Stories
Deppon Express

HUAWEI CLOUD helped Deppon deploy AI models on sites based on the edge-cloud synergy architecture, enabling automatic extraction of service-related information through optical character recognition (OCR) and effective identification of violent sorting behavior.

Jingying Shuzhi

HUAWEI CLOUD helped Jingying Shuzhi build an intelligent video identification system for coal mines based on device-edge-cloud synergy. The system monitors and manages prospecting drainage, automatically identifies the number of unloading poles, and calculates drilling depth to prevent falsification of engineering materials and eliminate drainage prospection faults.
Partners
Partners