SAP Certification
HUAWEI CLOUD has obtained certifications for servers, virtualization, SAP HANA, SAP ASE, SAP NetWeaver Application Server ABAP/Java, SAP Business One, and SAP Operations. HUAWEI CLOUD is currently pursuing more SAP certifications.
SAP HANA

SAP NW AS ABAP/Java

SAP ASE

SAP Business One

SAP Operation
SAP HANA
SAP NW AS ABAP/Java
SAP ASE
SAP Business One
SAP Operation
Solution Architectures
Description
Huawei provides infrastructure management services, including O&M and monitoring for hardware, virtualization, and networks, while also automatically provisioning customer-oriented laaS resources.
You can manage your own operating system along with all SAP applications and databases running on that operating system, or hire Huawei professional service partners. These partners offer end-to-end system management and O&M, including customizing, implementing, and managing services. For more information, see the SAP Security Solution.
Highlights
All SAP systems are deployed in the same VPC, shielding access from unauthorized users.
To ensure data security, you access HUAWEI CLOUD data center through a VPN.
HUAWEI CLOUD provisions computing and storage resources elastically and quickly.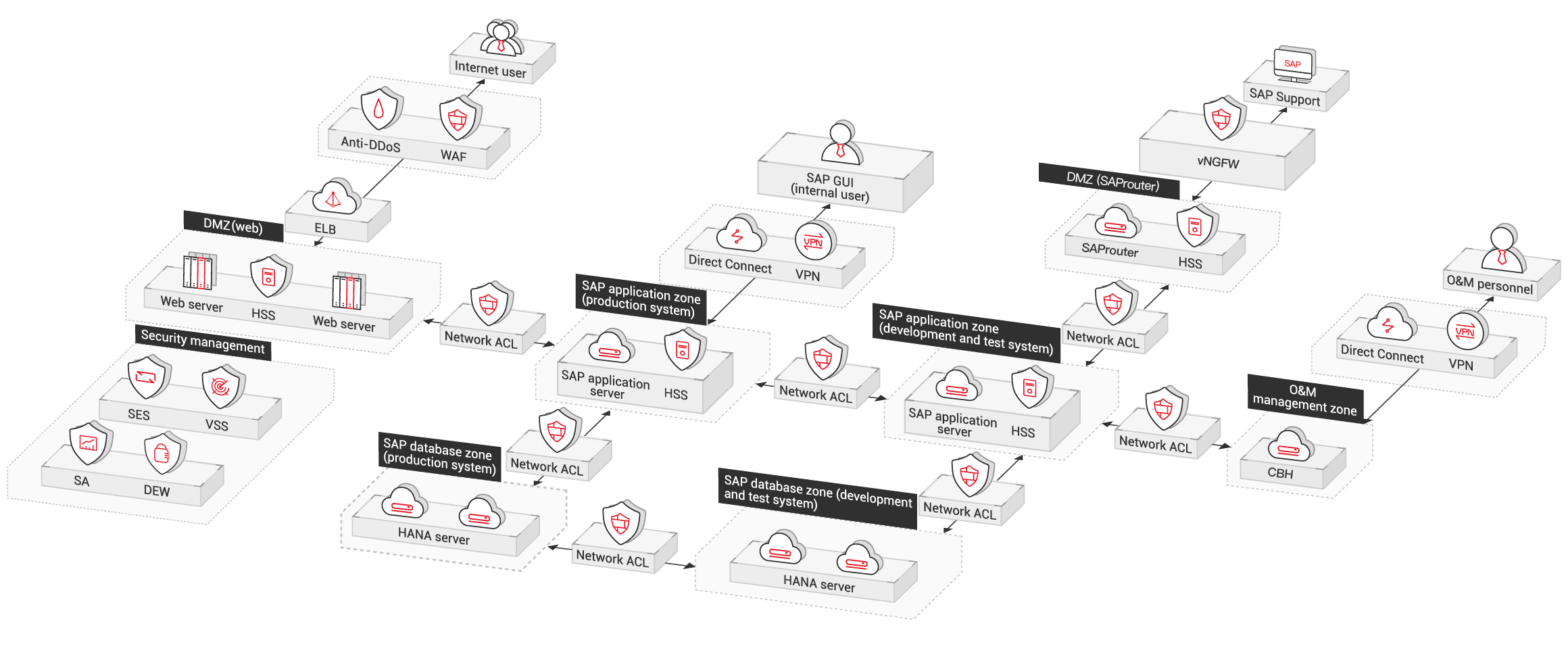 Description
Huawei provides full-stack security services across the whole range of data, hosts, applications, networks, and everything else in the ecosystem.
With extensive expertise in SAP application scenarios (such as the production system, development and test system, Hybris system, and security O&M), professional teams in the HUAWEI CLOUD tent provide customers with customized security solutions able to cover everything in the profile.
Highlights
In-depth border security protection
Overall security protection for hosts and applications
Comprehensive network isolation and access control
Professional database security
Success Stories
Success Stories
HUAWEI CLOUD developed a three-step cloud migration solution for Andreani, Argentina's largest logistics company. First, the e-commerce system was migrated to the cloud, and the network latency was shortened to handle peak traffic during Black Friday. Then the SAP system was migrated to the cloud to improve R&D efficiency and experience. Additionally, the warehousing DR system was migrated to the cloud. The TCO was reduced and service continuity was ensured with dual-AZ backup.

With the high-performance HUAWEI CLOUD SAP solution, highly scalable cloud services, and professional tech support services, the South Africa Department of Employment and Labour successfully migrated their SAP services to the cloud within just 3 months. The TCO and the cost of O&M were slashed and digital transformation was accelerated.

HUAWEI CLOUD provided certified SAP solutions and professional round-the-clock tech support services for Vanguard Myanmar, a leading business solutions and consulting services provider in Myanmar. The two companies invested in developing the SAP B1 SaaS on HANA solution to help SMEs accelerate digital transformation.

Ga Mone Pwint (GMP), a Burmese conglomerate, opted for HUAWEI CLOUD to support their SAP S/4HANA system. A broad set of cloud services from HUAWEI CLOUD are great for running GMP cross-industry applications. Digital transformation is moving along faster then ever.