SAP Certification
HUAWEI CLOUD has obtained certifications for servers, virtualization, SAP HANA, SAP ASE, SAP NetWeaver Application Server ABAP/Java, SAP Business One, and SAP Operations. HUAWEI CLOUD is currently pursuing more SAP certifications.
SAP HANA

SAP NW AS ABAP/Java

SAP ASE

SAP Business One

SAP Operation
SAP HANA
SAP NW AS ABAP/Java
SAP ASE
SAP Business One
SAP Operation
Solution Architectures
Description
Huawei provides infrastructure management services, including O&M and monitoring for hardware, virtualization, and networks, while also automatically provisioning customer-oriented laaS resources.
You can manage your own operating system along with all SAP applications and databases running on that operating system, or hire Huawei professional service partners. These partners offer end-to-end system management and O&M, including customizing, implementing, and managing services. For more information, see the SAP Security Solution.
Highlights
All SAP systems are deployed in the same VPC, shielding access from unauthorized users.
To ensure data security, you access HUAWEI CLOUD data center through a VPN.
HUAWEI CLOUD provisions computing and storage resources elastically and quickly.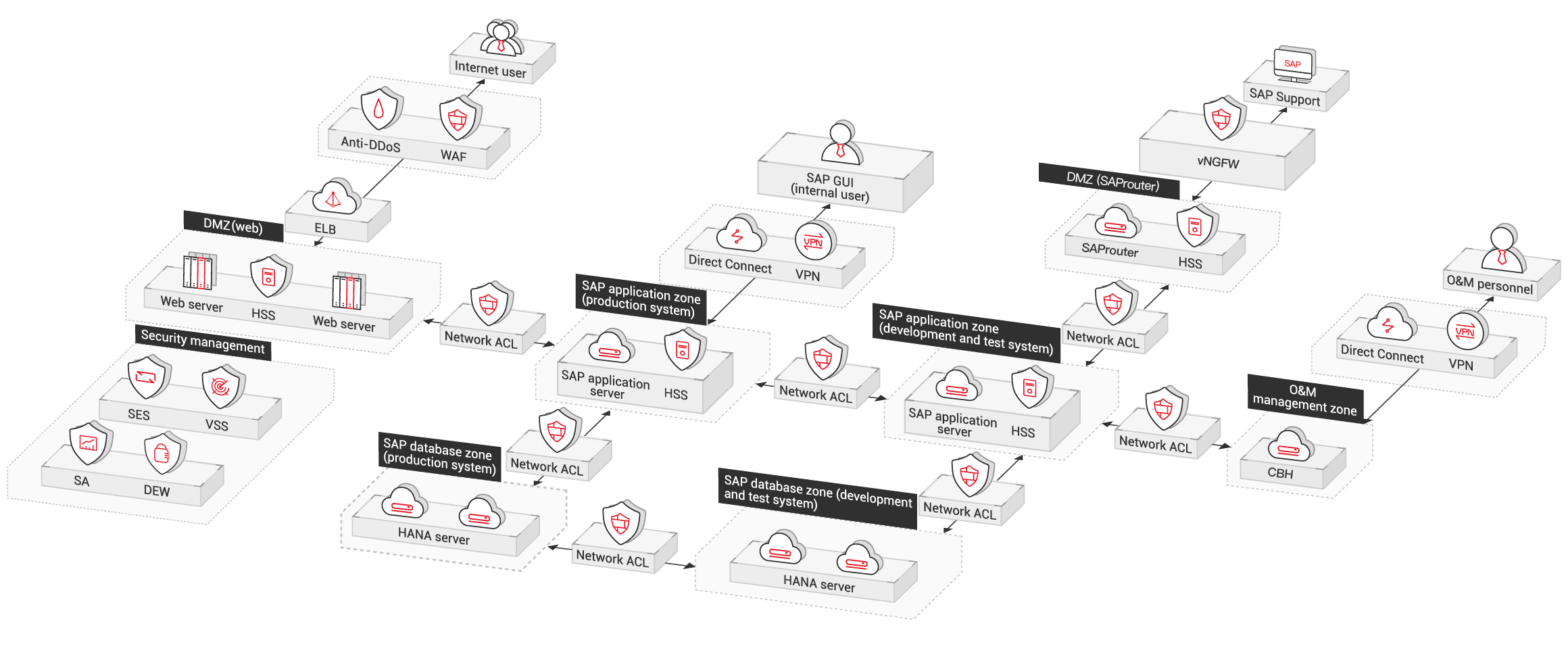 Description
Huawei provides full-stack security services across the whole range of data, hosts, applications, networks, and everything else in the ecosystem.
With extensive expertise in SAP application scenarios (such as the production system, development and test system, Hybris system, and security O&M), professional teams in the HUAWEI CLOUD tent provide customers with customized security solutions able to cover everything in the profile.
Highlights
In-depth border security protection
Overall security protection for hosts and applications
Comprehensive network isolation and access control
Professional database security
Success Stories
Topstar deployed its next-generation SAP S/4HANA system on HUAWEI CLOUD, integrating ERP, MES, and CAD, as well as accelerating its digital transformation.

Universe Filter deployed SAP S/4HANA on HUAWEI CLOUD to accelerate product rollout and international delivery. With IT systems on the cloud, you save money on O&M and other fixed investments without slowing down R&D or sacrificing security and reliability.

HUAWEI CLOUD provided a dedicated, highly-customized SAP security solution for Zhou Hei Ya, offering unparalleled performance and newfound stability for the company.

BESTORE's IT systems can now fulfill orders more efficiently, crucial during the company's flash-sales periods.

SAP on DeC Helps HPGC Blaze a New Trail in the Pharmaceutical Industry Huawei's SAP on DeC solution fully meets HPGC's long-term IT infrastructure planning blueprint by delivering top-notch security, performance, and reliability.
Partners