Press Releases
>
HUAWEI CLOUD Ranked No.1 in China's Container Infrastructure Software Market
HUAWEI CLOUD Ranked No.1 in China's Container Infrastructure Software Market
Dec 08, 2020
According to the recently released IDC report PRC SDC Software Market Overview, 2020H1, HUAWEI CLOUD ranks first among Chinese vendors in China's container infrastructure software market.
Data source: IDC PRC SDC Software Tracker, 2020H1
HUAWEI CLOUD has been dedicated to breaking new ground for cloud native technologies and products. This year, HUAWEI CLOUD proposed the concept of "In Cloud", that is, building application-centric cloud native infrastructure.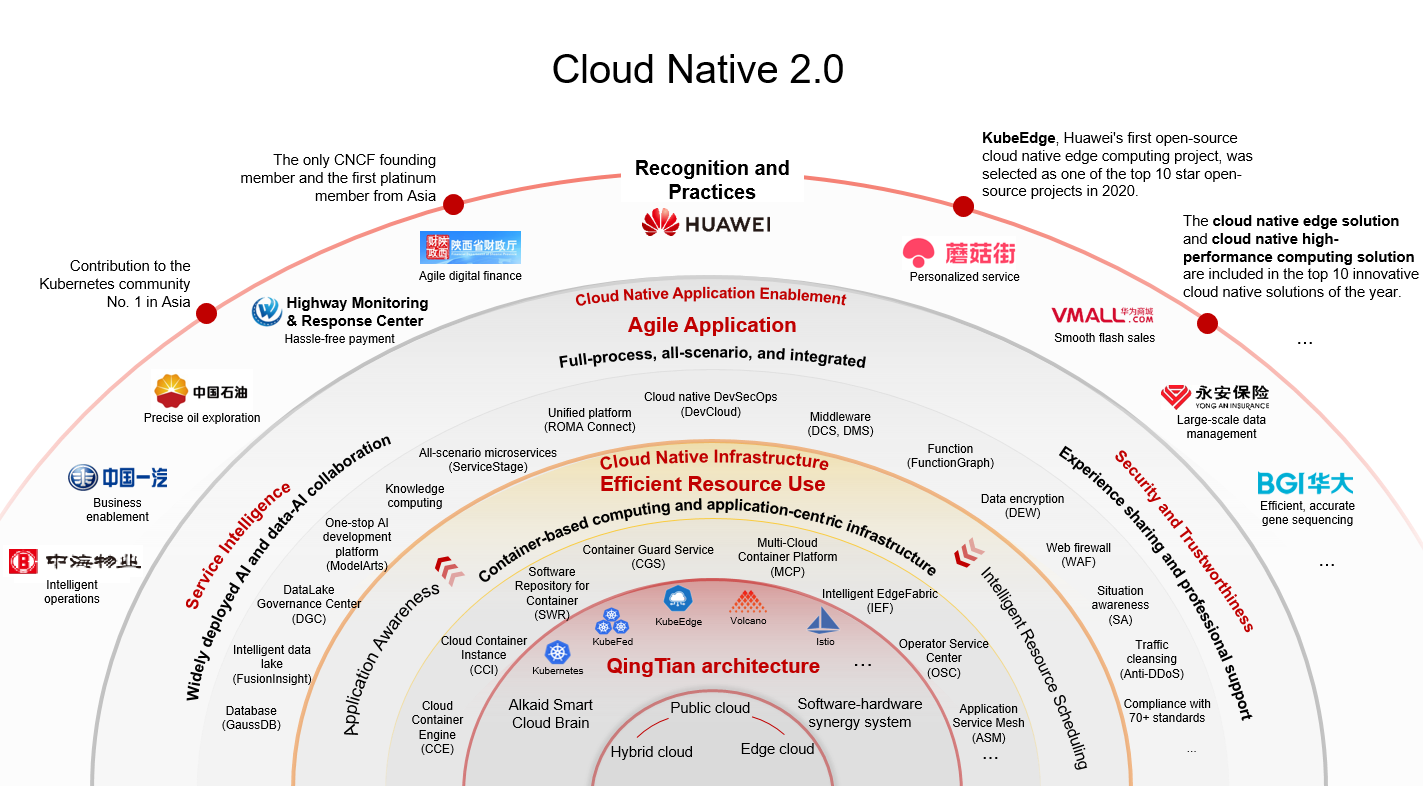 HUAWEI CLOUD has built eight core container services, including Cloud Container Engine (CCE), Cloud Container Instance (CCI), Intelligent EdgeFabric (IEF), and Multi-Cloud Container Platform (MCP). These services function as the technology base for tailored cloud native solutions, including bare metal servers, high-performance computing, hybrid cloud, and edge computing. Customers can enjoy high-performance infrastructure, distributed service architecture, and comprehensive cloud native application ecosystem during intelligent service upgrade.
High-performance infrastructure: HUAWEI CLOUD supports multi-architecture computing and cloud native computing, networking, and storage resources based on the software-hardware synergy of the HUAWEI CLOUD QingTian architecture.
More efficient distributed architecture: An efficient, reliable, and distributed computing platform is built on multi-cloud governance and edge-cloud collaboration. On this platform, multiple resources work cohesively with each other, such as containers, bare metal servers, VMs, and functions. In this way, legacy applications can better collaborate with cloud native applications.
Comprehensive ecosystem for innovation: HUAWEI CLOUD has built an application-centric lifecycle management process for legacy IT/middleware applications and innovative big data, AI, and edge applications. These can be deployed within a few clicks, scheduled intelligently, and monitored by a full range of metrics. Applications can run more efficiently and innovatively.
HUAWEI CLOUD is one of the first vendors to invest in cloud native technologies. In 2015, HUAWEI CLOUD helped establish the Cloud Native Computing Foundation (CNCF) and is the only founding member and the first platinum member of CNCF from China. HUAWEI CLOUD has been deeply engaged in the cloud native field in the past five years, ranking first in terms of committed code and Maintainer seats in Asia. HUAWEI CLOUD has contributed 130+ core features as well as KubeEdge (the first cloud native edge computing project) and Volcano (the first cloud native batch scheduling project) to the CNCF community. In addition, HUAWEI CLOUD is the only steering committee member from China for Istio, the top open-source service mesh community.
HUAWEI CLOUD has launched a series of original, industry-leading cloud native container services, solutions, and open-source projects for customers in diverse industries and fields. In the Cloud Native 2.0 era, a new cloud native enterprise is no longer a mere possibility, but a reality.