Product Quality Improvement
Intelligent Device Maintenance
Production Material Estimation
Product Quality Improvement
Product Quality Improvement
Sorts and analyzes customer feedback, Internet comments, competitor reviews and performance, repair records, and historical sales data to discover critical product issues, optimize product designs, and improve the product quality.
Advantages
Multi-Data-Source Integration
Explore data from multiple sources without data format conversion and with easy actions to find the value you are looking for.
Multiple Built-in Algorithms
You can use existing time series algorithms to forecast defects in products, especially high-quality products.
Professional-grade Data Warehouses
Data warehouses with multi-dimensional analysis capabilities on applications equate to accelerated response to requests.
Intelligent Device Maintenance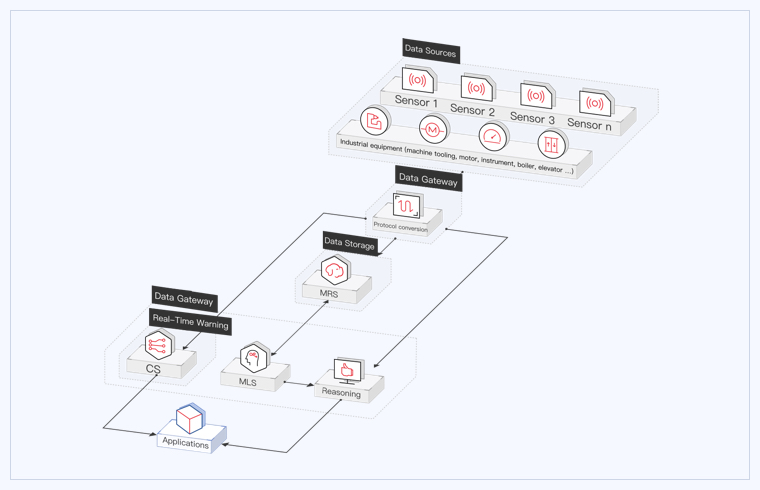 Intelligent Device Maintenance
Uses forecasting and reasoning methods such as time series forecast, neural network forecast, and regression analysis to predict faults, the anticipated time of occurrence, and fault type. This design improves service O&M efficiencies, reduces equipment downtime, and saves on onsite service costs.
Advantages
Flexible Access to Multiple Parameters
Builds the fault forecast model based on historical monitoring data, device parameters, current status, and other characteristics, and implements preliminary key parameter analysis for the predicted problems.
Algorithm Pre-integration
Supports professional prediction algorithms; pre-integrates general algorithms in the industrial domain, such as the decision tree, classification, clustering, regression, and exception detection algorithms; supports flexible exporting or loading of the training model to the rule engine so alarms can be generated almost instantaneously.
Production Material Estimation
Production Material Estimation
Accurately analyzes and estimates the materials required for production based on historical data, reducing the warehousing period and improving efficiencies.
Advantages
In-Depth Algorithm Optimization
Implements in-depth optimization based on the industry's time series algorithm model and Huawei's supply chain.
One-Click Release
Pre-integrates machine learning and the reasoning platform. Applications can be released in one click using the algorithm model, reducing the amount of work in secondary development.