Industry Trends
Video Industry Trends
Network transmission, computing capabilities, client support, and video experiences continue to benefit from technological advancements, with Huawei's cloud services at the forefront. Servicing a total of 565 million network users for video applications in China by June 2017, Huawei continues to refine its proprietary cloud video services, including content production, operations management, and publishing. As the most feasible and resource-effective video content delivery mode, public cloud services provide:
Lightweight tools for efficient content production, without any investment in professional hardware

An abundance of intelligent and reliable content management methods with a six-layer protection mechanism to securely host content

Support for matrix and multi-channel content publishing for multiple device formats

Content data analysis for personalized recommendations
Business Challenges
Frame Freezing

Since video streaming involves multiple parties, from live TV sources to the CDN and then to the audience, frame freezing is a possibility during video playback. Here, the key challenge is in improving the video viewing experience by tackling high concurrency in live TV sources, multi-CDN dynamic routing, and unstable streaming to the audience.

Delays in Live Broadcast

Since the live broadcast process involves a series of software and hardware devices, including streaming, network, and video consumption devices as well as live broadcast software codecs, small delays are seen to be acceptable. However, delays that are too large can cause interaction and calling synchronization errors, adversely affecting user experience.

Serious Video Leeching

Video leeching is an ethical, legal, and economic issue, as it infringes intellectual property rights and results in extra CDN traffic fees.

High Broadcast Traffic

The use of high definition and 4K photography devices has further propelled demand for high-quality video viewing experiences, increasing pressure on network traffic and leading to higher traffic fees, often accounting for 3/4 of video broadcast costs.
Online Live Broadcast

Online Video on Demand

Online Video Transcoding
Professional Internet live broadcast services for various scenarios such as summits, forums, exhibitions, and training sessions, covering public sector, education, new retail, finance, tourism, automotive, and other industries. Encompasses live broadcast processing - cloud-based video switching, stream splitting, and multi-camera setup - and other services - conversion from live broadcast to video on demand within seconds, Catch-up TV, and data analysis.
Live Video Collection

Enables live video collection on cameras, mobile phones, drones, encoders, 4G backpacks, and other signal sources.

Live Video Processing

Uses live video processing services such as transcoding, Catch-up TV, cloud-based video switching, stream splitting, and cloud NVOD.

Live Video Delivery

Delivers smooth playback over the entire network, covering web, iOS, and Android platforms and devices.

Live Interaction

Provides multiple interaction modes such as image- and text-based hosting, commenting, bonus package rewards, and highlights to make the video viewing experience more engaging.

Live Broadcast APIs/SDKs

Integrates live broadcast APIs and SDKs seamlessly into self-owned platforms to quickly bring live TV services online.
One-stop audio and video on-demand (VOD) solution consisting of audio and video collection, editing, upload, automatic transcoding, media resource management, delivery acceleration, and video playback. Huawei cloud scalable storage, high-quality video transcoding, and stable content delivery help enterprises and developers quickly build secure, elastic, and high-availability VOD platforms and applications.
Video Upload

Uploads content in various formats, using a console, an API, or an SDK.

Video Management

Manages media assets including content catalogs, tags, types, and attributes.

Video Transcoding

Transcodes videos in different encoding formats using perception-based enhanced techniques that improve image quality and reduce traffic by 30%, with watermarking and corner marking also supported.

Video Playback

Plays videos smoothly on web, iOS, and Android devices.

VOD APIs/SDKs

Product-level APIs and SDKs for quick access.

Security Protection

Includes security protection mechanisms such as anti-leeching, HTTPS, and API security tokens.

Data Statistics

Fine-grained service usage query within 90 days to control service usage and evaluate operation effects.
Numerous cloud computing-based transcoding services: multi-format transcoding, watermarking and corner marking, transcoding in one-in and multiple-out mode, and perception-based enhanced encoding that improves image quality and reduces traffic by 30%. The elastic scaling feature, unique to cloud computing services, enhances the capacity of transcoding services to meet specialized business needs.
Rich Encoding Formats

Matrix management of more than 50 audio and video formats, and the customization, manual import, and manual export of the formats.

Powerful Transcoding Functions

Multi-format transcoding, screenshots, watermarking, GIF animation, stitching, corner marking, and other functions for various scenarios.

Dynamic Load Balancing

Maximized throughput of each transcoding node to improve efficiency and reduce costs.

Elastic Cluster Scaling

Dynamic scaling on the transcoding cluster based on service volume proportions.

Intelligent Perception-based Enhancement

Real-time perception-based transcoding enhancement to achieve high image quality, low traffic, and low latency for different networks and devices.

Transcoding APIs/SDKs

Product-level APIs and SDKs for fast connection and seamless integration to implement quick launch of transcoding services.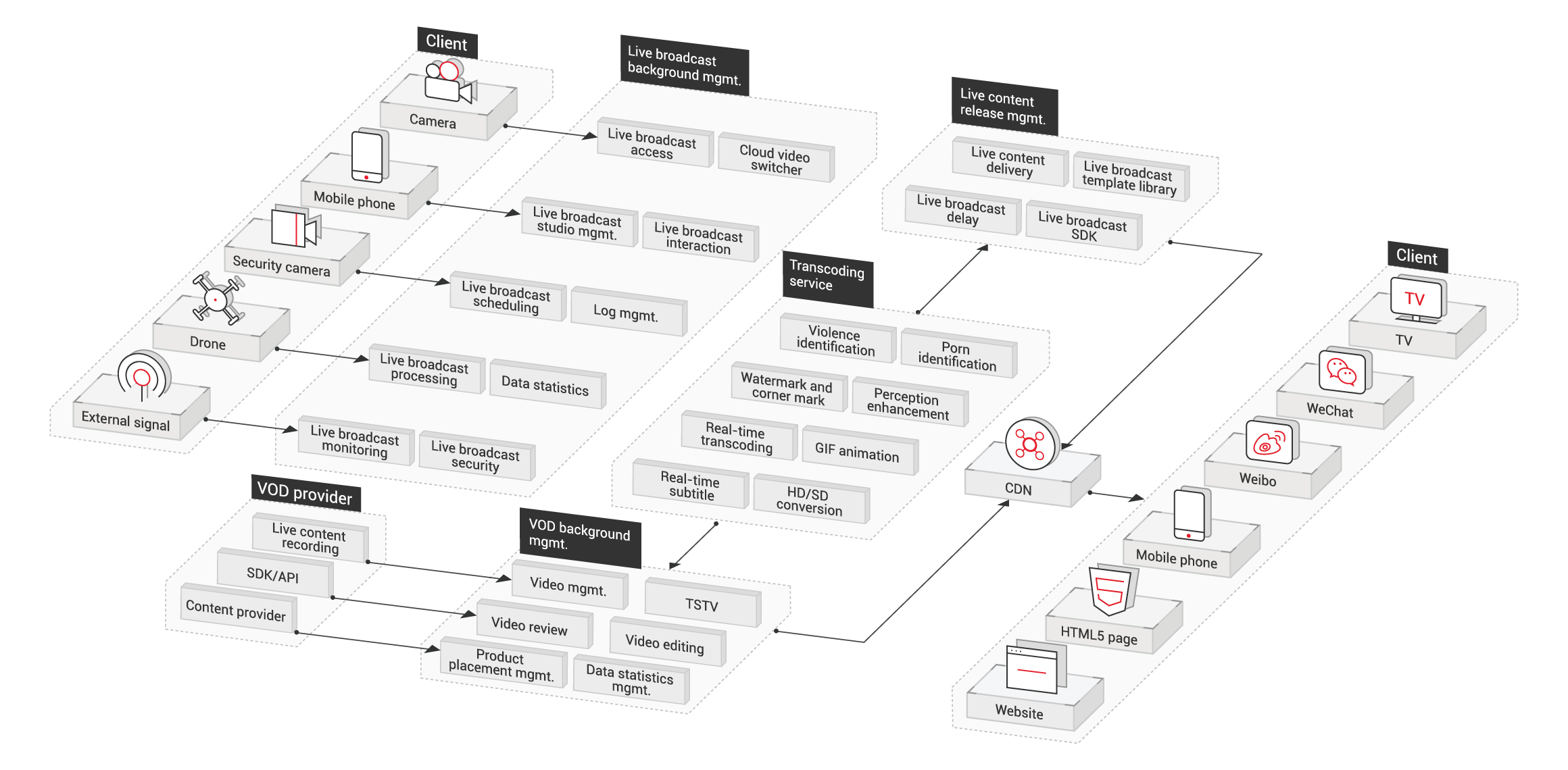 Description
The solution includes live broadcast, VOD, and transcoding services, covering video applications for public and private sector enterprises. It helps companies enhance the value of their communications and expand their influence.
Highlights
Integrated Solution: Performs video collection, editing, upload, management, and delivery using a console, an API, or an SDK.
Live Broadcast Services: Stable, smooth, low-latency, and high-concurrency real-time audio and video services.
VOD Services: Media asset management, including uploading, managing, and releasing media assets.
Transcoding Services: Supports more than 50 formats, watermarking and corner marking, and transcoding in one-in and multiple-out mode.
Perception-based Encoding: Image perception-based dynamic encoding, improving image quality and reducing traffic by 30%.
Applicable Products & Services